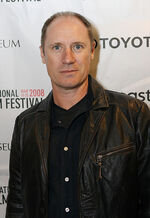 Steve Vidler (born 1960) is an Australian actor known for his part in the Scottish–Australian series Jeopardy as the groups teacher,Gerry Simons.
His film credits include The Good Wife (1987) where he played "Sugar", the younger brother who 'knew' his brother's wife.He was Mr Simmons in Jeopardy and also plays Neil Webster, Tara's father in the Australian drama Dance Academy.
External Links
Edit
Ad blocker interference detected!
Wikia is a free-to-use site that makes money from advertising. We have a modified experience for viewers using ad blockers

Wikia is not accessible if you've made further modifications. Remove the custom ad blocker rule(s) and the page will load as expected.