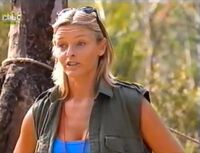 Melissa (Tammy McIntosh) is a park ranger and a character in the first series. She was to help Gerry Simmons, the groups teacher, to organise the trip.
Shortly after realising the anti-venom was gone, Melissa treks out into the bush to find the jeeps and get help. She crashes, and tries to return to base-camp, but is captured by the smugglers. She is found, just after Gerry Simmons, by Simon. Melissa was last seen waiting for the police, guarding Arnie, a smuggler and boss to Melissa. Her fate is unknown.
Ad blocker interference detected!
Wikia is a free-to-use site that makes money from advertising. We have a modified experience for viewers using ad blockers

Wikia is not accessible if you've made further modifications. Remove the custom ad blocker rule(s) and the page will load as expected.